Course details
"All-you-can-drink for 2.5 hours (over 40 types) & all-you-can-eat ham!" Spanish red pork steak "Party plan"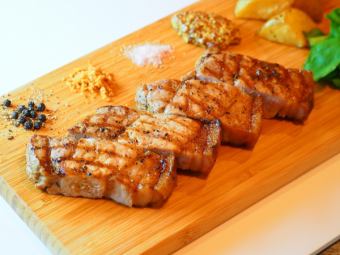 All-you-can-drink available

Approximately 40 dishes or more 150 minutes system (30 minutes before LO) ** If you have many unlimited drinks, you may be charged separately.
Reservation deadline

Until 17 o'clock the day before the desired store visit
Available days for reservation

Monday - Saturday, Sunday and public holidays - Holidays
It is a plan that you can enjoy deliciously with delicious food and sake! Private reservations available! Please consult ♪ Juicy, Spanish red pork loin steak is the main course! Variety of specialties of Baruel are also available ♪ Various types of alcohol and soft drinks are abundant So, there is no doubt that everyone can enjoy it!
Course menu
☆ All-you-can-eat raw ham
· Garlic toast
· Pate de Campagne
・ Marinated seafood
· Whimsical salad
· Seasonal pasta
・ Spanish red pork steak
· Dolce
All-you-can-drink menu
·wine
・ All-you-can-drink and drink a lot! We also have various other items such as `` Keel '' and `` Keel Royal '' combined with sparkling wine!
·beer
・ Dark draft beer is "Premium Malt"! Enjoy the taste of the master restaurant ♪ The types of beer cocktails have increased! In addition to the classic "Shandigafu", fruit-based beer cocktails such as "Cassis Beer" and "Peach Beer" and now The hot white wine x beer cocktail `` Beer Splitzer '' has also been added to the menu!
·Cocktail
-Italian liqueur "Campari", classic cassis, peach and lychee liqueur, vodka and gin! There are dozens of cocktails in combination with soft drinks! Please try ♪
·Soft drink
・ Orange juice Grapefruit juice Ginger ale Carbonated water Oolong tea
·Non-alcoholic
・ Non-alcoholic cocktails and non-alcoholic beers have been added in addition to regular soft drinks so that those who can not drink alcohol can enjoy all-you-can-drink! About 10 kinds of non-alcoholic cocktails are prepared using "Peach"! Non-alcoholic beer is available "All Free" ♪
2019/10/31 update